Power Rangers: Battle for the Grid to Feature Rangers Vs. Villains Team Combat Across Multiple Gaming Platforms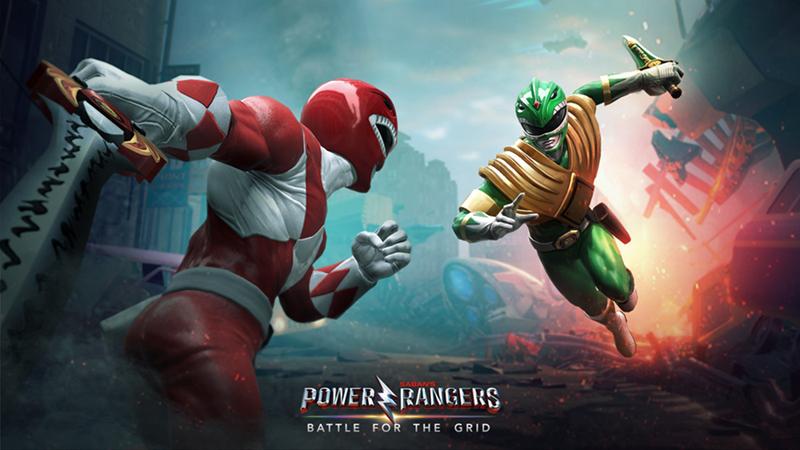 New Power Rangers console game coming to PlayStation 4, Xbox One, and Nintendo Switch in April 2019 with PC release to follow later in the year; Pre-Orders Start Today
 SAN FRANCISCO – January 17, 2019 – For over 25 years Power Rangers has been one of the most popular franchises in the world. As a perennial Top 10 NPD Action Brand, the globally renowned brand has spawned hit TV shows, movies, toys, comics, live entertainment and games. Today, nWay, the developer and publisher behind Power Rangers: Legacy Wars, the hit multiplayer mobile game with over 45 million downloads, is partnering with Hasbro and global content leader Lionsgate to announce Power Rangers: Battle for the Grid. The new cross-platform fighting game will be available as a digital download for $19.99 first on PlayStation 4, Xbox One, and Nintendo Switch in April 2019, and then as a PC release later in the year.
 The game is now available for pre-order at www.battleforthegrid.com. PlayStation 4 pre-orders will start shortly. Those ordering prior to launch will receive an exclusive bonus of the Green Ranger V2 character skin and a digital art book. In addition, a special Digital Collector's Edition will be available to pre-order for $39.99, which contains the full game download, Season One Pass (which will include three new characters, their Arcade story, and a new warrior skin), and exclusive Lord Drakkon Evo II and Mighty Morphin Power Rangers Pink Ranger character skins.
"Power Rangers fans have been asking for a high fidelity fighting game on console and PC that match up iconic Rangers and villains across the expansive Power Rangers multiverse for quite some time now," said Taehoon Kim, co-founder and CEO of nWay. "We wanted to deliver this to the fans and make sure it has cross-play and cross-progression capabilities as we believe playing with friends across multiple platforms at the same time is where the future of gaming is headed."
 Power Ranger: Battle for the Grid is an easy to learn but hard to master fighting game that delivers a modern take on the Power Rangers franchise. The game features stunning graphics with vivid details and pits new and classic Rangers and villains against each other in team battles. Featuring a streamlined combat system, the game welcomes newcomers to the genre with simplified controls, while maintaining depth and detail for more intense and experienced competitors. Players will be challenged to test their skills online against friends and other players around the world, providing endless replayability. With new content and game modes releasing throughout the year, the game will continuously offer the community new ways to play and compete.
With cross-play across multiple platforms, all players whether on Xbox One, Nintendo Switch or PC, will be in the same player pool and will have the ability to compete against each other in real-time. Even when players change their platform, their mission progress they have worked to achieve will still be available to them, allowing for cross-progression and true seamless gameplay no matter where they play.
 "Since the acquisition of the Power Rangers IP, we've been looking forward to bringing Power Rangers fans memorable experiences. With Power Rangers: Battle for the Grid, we're expanding the portfolio of great Power Rangers games to more platforms," said Mark Blecher, Senior Vice President of Corporate Strategy and Business Affairs at Hasbro.
 "The Power Rangers have proven to be an enduring global phenomenon among audiences of all ages," said Daniel Engelhardt, Senior Vice President of Interactive Ventures & Games at Lionsgate. "We are excited to build upon our successful mobile game, Power Rangers: Legacy Wars, to offer a unique opportunity for fans to enjoy a new cross-platform fighting game experience on console and PC."
 More details on Power Ranger: Battle for the Grid will be released in the coming weeks.
About nWay
nWay is the game studio behind Power Rangers: Battle for the Grid, Power Rangers: Legacy Wars and ChronoBlade. The company's proprietary engine makes fast-paced, synchronous multiplayer gameplay possible across multiple gaming platforms. Based in San Francisco and Seoul, nWay is comprised of leading developers and senior executives from Sony, Electronic Arts, WB Games, LucasArts, Kabam, Nexon and NCSoft. Collectively, the team has contributed to over a dozen hit mobile, console, and online games, including Marvel Contest of Champions, Injustice, Star Wars: The Force Unleashed, Dominations, FIFA, Battlefield Online, Lineage II, and Warhammer. nWay is backed by Ridge Ventures, March Capital, Baseline Ventures, Translink Capital, and WI Harper. For more information, visit www.nway.com.
About Hasbro
Hasbro (NASDAQ: HAS) is a global play and entertainment company committed to Creating the World's Best Play Experiences. From toys and games to television, movies, digital gaming and consumer products, Hasbro offers a variety of ways for audiences to experience its iconic brands, including NERF, MY LITTLE PONY, TRANSFORMERS, PLAY-DOH, MONOPOLY, BABY ALIVE and MAGIC: THE GATHERING, as well as premier partner brands. Through its entertainment labels, Allspark Pictures and Allspark Animation, the Company is building its brands globally through great storytelling and content on all screens. Hasbro is committed to making the world a better place for children and their families through corporate social responsibility and philanthropy. Hasbro ranked No. 5 on the 2018 100 Best Corporate Citizens list by CR Magazine, and has been named one of the World's Most Ethical Companies® by Ethisphere Institute for the past seven years. Learn more at www.hasbro.com, and follow us on Twitter (@Hasbro) and Instagram (@Hasbro).
About Lionsgate
The first major new studio in decades, Lionsgate is a global content platform whose films, television series, digital products and linear and over-the-top platforms reach next-generation audiences around the world. In addition to its filmed entertainment leadership, Lionsgate content drives a growing presence in interactive and location-based entertainment, gaming, virtual reality and other new entertainment technologies. Lionsgate's content initiatives are backed by a 17,000-title film and television library and delivered through a global licensing infrastructure. The Lionsgate brand is synonymous with original, daring and ground-breaking content created with special emphasis on the evolving patterns and diverse composition of the Company's worldwide consumer base.